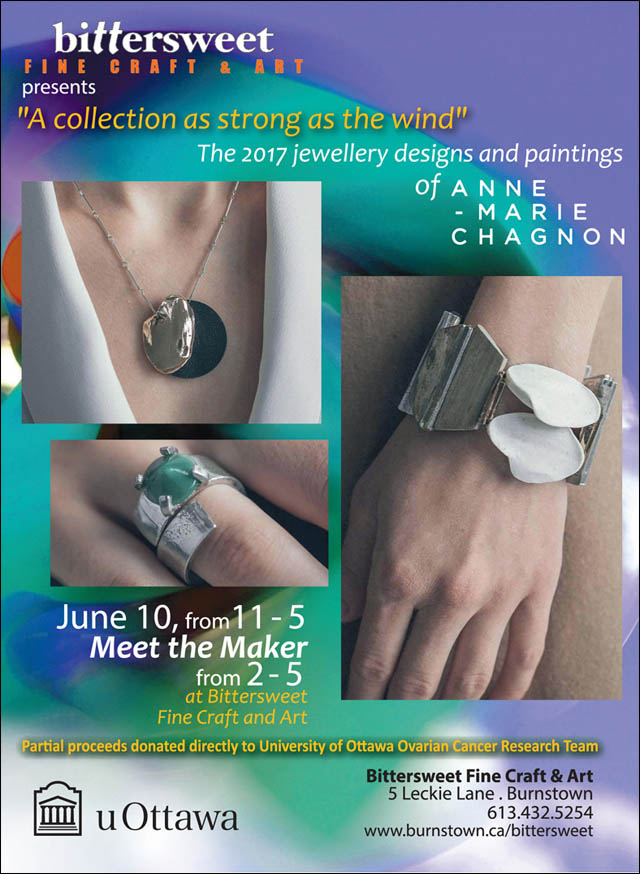 Art meets science with "A collection as strong as the wind" June 10 at Bittersweet Gallery - Meet the Maker: Anne-Marie Chagnon.

Shortly after Bittersweet Gallery first opened its doors in the year 2000 owner Cheryl Babineau and her husband Richard Gill discovered the work of Anne Marie Chagnon at a show in Montreal and have been representing her jewellery designs ever since. Every year for the past twenty, Chagnon has expressed the passion to create a distinctive and unconventional collection as prevailing as they are timeless. Her pieces unite chiseled pewter, iridescent glass, carved resin, gold, bronze, leather, wood and horn along with images taken from her charcoal drawings or details from her paintings.

Over the past 10 years the gallery has celebrated her latest collections with a popular spring launch and trunk show. This year Cheryl & Richard are honoured and delighted to announce that Anne-Marie for the first time will be in attendance with her most recent 2017 spring/summer creations. Also for the first time the gallery is pleased to be showcasing the artist's original abstract paintings.

As in previous events Bittersweet will be donating a portion of the proceeds to Ovarian Cancer. This year the proceeds will go directly to the Ovarian Cancer Research Team at University of Ottawa. Cheryl is also pleased to say that Dr. Barbara Vanderhyden PhD who a senior scientist and chair of Ovarian Cancer Research will also be in attendance.

Why is it vital to fund clinical and fundamental research on ovarian cancer?
Still very unknown to the public, it is the deadliest gynecological cancer.

• No screening test currently exists. Therefore, in 75% of cases, ovarian cancer is diagnosed at a stage too advanced for a cure to be possible.

• Despite remarkable progress in technology and chemotherapy, the five-year survival rate for patients at an advanced stage of ovarian cancer is as low as 15 to 25%.

• In Canada, 17,000 women are battling ovarian cancer right now and 2,600 more will be diagnosed with ovarian cancer this year.

• Research is the greatest hope for ovarian cancer patients and their families – and for all women, as each is susceptible to suffer from it one day

Dr. Vanderhyden is optimistic that all of the recent work in cancer research, including studies in genetic or viral therapy, may in some parts be transferable to the treatment of ovarian cancer. The approach is to develop the platform for scientists from all disciplines to share their work, and to find ways to transform this information into applicable treatments.

In the meantime those who are interested can make donations to this cause directly online at alumni.uottawa.ca/ovarian-cancer-research



"A collection as strong as the wind" opens at Bittersweet Gallery in Burnstown Saturday, June 10, from 11 to 5pm. Anne-Marie will attend from 2-5pm.

Light refreshments will be served and there will be door prizes of jewellery and art.
For more details call: 613-432-5254 day or: 613-433-9990