2013 Annual Fall Show
Opening on Friday, October 4
2:00pm-10:00pm
Continuing daily 11:00am-5:00pm
through Monday, October 14
2012 marked Richard's 40th Anniversary Fall Show! Click Here to view slides.

Scroll down to see some of Richard's recent works.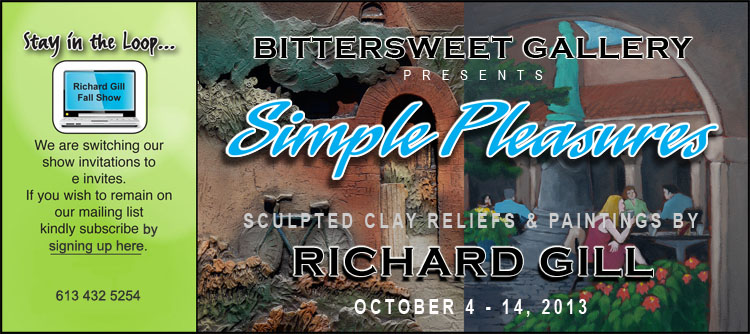 RICHARD GILL FALL SHOW
ONE OF LIFE'S "SIMPLE PLEASURES"
In ways we are often at a loss of words for, we mourn the loss of art and sensuousness in a utilitarian world. The more technology invades our lives with its flood of impersonal, colourless and "branded" objects, the more we can find simple but profound pleasure in finely crafted objects.

Burnstown artist Richard Gill has spent a lifetime crafting his one of kind clay-relief sculptures bringing this simple pleasure of fine craft to the residents of the Ottawa Valley and far beyond.

Time slows down for a moment, releasing us from harried, hurried lives as we marvel at the skill and craftsmanship it has taken years to develop. Gill draws inspiration for his annual fall show this year from a lifetime of influences & travel, crafting his own interpretations in clay as well as those he has rendered for patrons wishing to connect with or capture memories by way of custom work. It's a creative process that sustains and advances a living culture for both maker and patron.

Whether it's a scene of alfresco dining in an outdoor cafe, a lush courtyard, a picnic on the shores of the Bonnechere River, a lobster dinner, the cozy ambience of a family cottage, paddling a canoe in the great outdoors, riding a bicycle through a picturesque village, or even the bones & beauty of an old oak tree; the sculptor has strived to capture moments of the simple pleasures of life.

Although his ongoing works can be seen year round in Burnstown, Gill marks each fall with a body of themed sculptural works.

This years show aptly named Simple Pleasures will also include some of the artists paintings. It opens at Richard's Fog Run Studio presented by Bittersweet Gallery with an afternoon collectors preview beginning at 3 pm and vernissage to 9 pm at 5 Leckie Lane in Burnstown on Friday, October 4. His show continues 11 to 5 daily to October 14.

For more information call Cheryl or Richard at 613 433 9990.

2012 marked Richard's 40th Anniversary Fall Show!
Click Here to view slides.
View Richard's Fall Show 2013
View Richard's Fall Show 2014

View Richard's Fall Show 2015
View Richard's Fall Show 2016
View Richard's Fall Show 2017
View Richard's Fall Show 2018
View Richard's Fall Show 2019
View Richard's Fall Show 2020
View Richard's Fall Show 2021



Richard works from photographs, sketches, architectural drawings or concepts.

The work on the left was created from a photograph taken in Prague.




Preview examples of Richard's previous shows:
Slideshow 1 Slideshow 2


We look forward to seeing you, anytime,
Cheryl & Richard